<![if !vml]>

<![endif]><![if !vml]>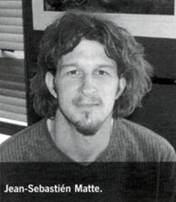 <![endif]>                                        ALERT
<![if !vml]>

<![endif]><![if !vml]>

<![endif]>  VOICE FROM THE FIELD
<![if !vml]>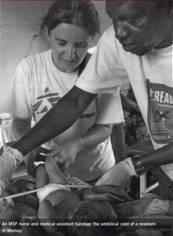 <![endif]>"We could see villages burning all along the road"
An ongoing conflict in the Darfur region of western Sudan has displaced up to 800,000 people.  Logistician Jean Sébastian Matte and Nurse Coralie Lechelle volunteered there with Doctors Without Borders/Médecins Sans Frontières (MSF) from December 2003 to March 2004.  After the Susanese authorities suddenly forced the closure of a camp for displaced people in the city of Nyala, MSF opened programs in the much smaller town of Mornay, where the pair struggled to provide assistance and treat civilians wounded during increasingly frequent attacks in and around the town. 
This is Matte's account of his mission in Sudan…
<![if !vml]>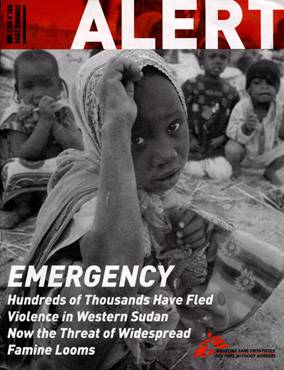 <![endif]>It was around at night when the bombs and gunfire erupted on the outskirts of Mornay.  I could see 12 distinct columns of smoke saturating the sky.  It was the first week of February, less than two months since I had arrived in Khartoum.  But so much had changed - so quickly.
I touched down in Khartounm on December 28 and spent seven days there waiting for travel permit so I could join the Doctors Without Borders/Médecins Sans Frontières (MSF) team of four international staff in Nyala.  I met up with the team just as the Sudanese authorities were pressing for the relocation of a group of 10,000 internally displaced persons (IDP's), who had gathered thee and in nearby Intifacah camp to a new location about 10 miles away in Belel.  Children under five were estimated to be dying at a rate of 6 per 10,000 per day – six times the death rate used to designate an emergency.  The team was providing basic food assistance and health care services to the population.  Most of the IDP's had nothing more than sticksto create shelter for themselves.  The temperatures could reach 90 degrees during the day , then fall to 40 degrees at night.
The IDP's in Nyala and nearby Intifadah camp represented just a fraction of the people forced from their homes since fighting broke out between rebel and government forces in the greater Darfur region of western Sudan in February 2003.  When I arrived in Darfur, the United Nations was already estimating that more than 700, 000 people – roughly equal to the poplation of San Francisco – had dispersed across a region two-thirds the size of France, and an additiona 140,00 refugees had fled to Chad. 
<![if !vml]>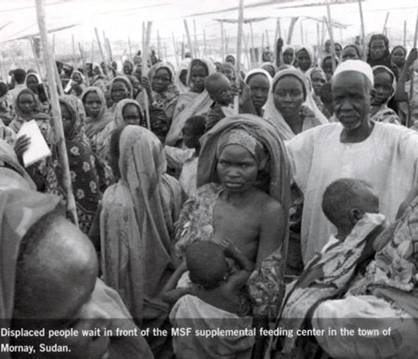 <![endif]>
The conditions in the new location, Belel, were abysmal - three latrines and one manual water pump for thousands.  The area was completely exposed to attacks from the Janjaweed, the horseack-riding militias that have unleased a scorched-earth campaign against the civilian population throughout Darfur.  Despite these conditions, the authorities were determined to relocate the IDP's.  We had just set up a clinic in Nyala whe the autherities swept into the camps with trucks, brandishing Kalashnikov rifles and menacing the civilians with threats of burning the area if they did not move to Belel.
I cold only imagine the fear they felt
Most, if not all of them had fled to Nyala and Intifadah after seeing their villages burned.  Over the next 24 hours, all but about 500 of the 10,000-plus people vanished into the bush.  Some were trucked to Belel while others fled on foot. 
With no one left to help, all we could do was pack up and prepare to reach other towns in desperate need of assistance.  An MSF team went to evaluate the towns of Mornay, Zalinge, and Garsilla – all swollen with an influx of people driven from their villages.  It was decided that Coralie Lechelle, a French nurse, and I would make our way to Mornay to provide assistance.
We pulled ogether a team of 10 national staff (5 drivers, 2 nurses, a medical assistant, and 2 translators), and set off for Mornay in a convoy of two MSF cars and five trucks loaded with drugs, logistical supplies, and food.  We dropped our materials in Zalinge, northwest of Nyala, and headed to El Genina, the regional capital of West Darfur, to get permission to work in Mornay.
<![if !vml]>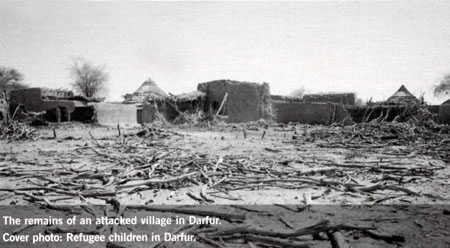 <![endif]>I will never forget what I saw next
Village after village along the road to El Genina had been burned to the ground and abandoned.  Fleeing civilians lined the road.  Only three villages remained standing and their inhabitants appeared to be waiting out the situation.
Once we reached El Genina, the authorities gave quick approval for us to work in Mornay.  We rushed back through Mornay to tell civilians that we would return to provide assistance.  They begged us to return quickly.  On the road back to Zalinge we saw the the villagers from Tulu, Salulu, and Mara were fleeing with all the possessions they could carry to Mornay or Zalinge.  The Janjaweed had told them that they would return to destroy their villages.
We got back to Zalinge, where we spent the night.  The next morning, we set up a pharmacy.  Then we screened 5,00 children for malnutrition – one in ten was malnourished.  When we arrived, about one-third of the families had stocks of sourghum (a cultivated grain).  We started to treat the most severe cases of malnutrition.  Then over the next thee days we vaccinated 5,000 children against measles – a disease the thrives on malnourished children liveng in close quarters.  We established a clinic.
Then the bombs started falling around Mornay
The town of Mornay had contained 20,000 IDP's before the bombing started.  Ove the next 10 days, the population exploded to 45, 000.  All through the night, Coralie and the national staff treated war wounded.  We received 80 wounded people including children.  People arrive with bullet wounds or beaten.  Some had been whipped by Janjaweed.  At least 17 women had been raped.  To get to Mornay, many had traveled by foot for hours or even days, carrying only a small bag of food at most.
<![if !vml]>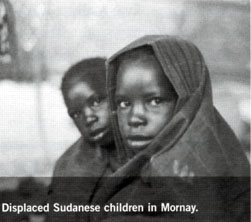 <![endif]>When I wasn't helping in the clinic, or trying to obtain information on the security situation, I walked through the town asking new arrivals about their villages and what had happened to them.  They said that hundreds from each village had been killed.  They told stories of children strangled, women burned alive, and men shot to death.   Out of any group of 20 people, maybe one was an adult male.  Most of the men had been killed or had stayed back to watch over food supplies.  But the majority of the people had no idea what had happened to their sons, husbands, and fathers.
There was the constant fear that Mornay would be next; that they would "clean" the town of all its inhabitants as had happened in countless other villages.  Coralie and I spoke every hour.  We were constantly assessing the danger and in contact with the MSF headquarters in Paris by satellite phone.  Every night we contemplated leaving.  But there was a unanimous decision amontg the team to stay.  We were surrounded by need.
Finally, on February 16 the bombing stopped.  By then, there were close to 60, 000 people in Mornay.  We were working against impossible odds.  The streets were littered with dead donkeys, sheep, and cattle.  None of the people had food for their animals, and it was still to dangerous for them to venture outside of the town.  I spent a good part of my days leading efforts to bury dead animals to preven outbreaks of disease.
<![if !vml]>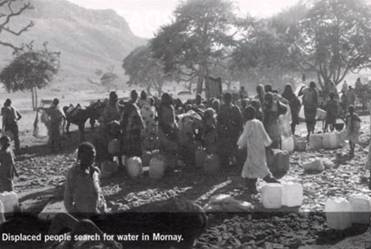 <![endif]>
We were treating 300 severely malnourished children and prviding supplementary food to 1,200 more.  Eventuall a water and sanitation team was able to reach Mornay, and with their help we were able to provide 500,00 liter of water per day to the population, or 10 liters per person.
When Coralie and I left Darfur in mid-March there  was still so much work to be done.  MSF treams were able to reach areas where nearly 115,000 people had been struggling to survive, but we still have no idea about the hundreds of thousands of others.
Emergency Update:
Famine Looms in Darfur
A recent NFS nutritional survey of children and their caregivers in five locations in Drfu, where nearly 150,000 displaced people have sought refuge from extreme violence, shows thet the whole population is on the brink of mass starvation.
The survey revealed a gloval acute malnutrition rate of 21.5 percent among the population (20 percent is an indicator of an emergency).  The study found the mortality rate for children under five years of age to be 5.2 dearths per 10,000 people per day, while the rate for those over five year of age was 3.6 deaths per 10,000 people per day. Both rates ar more thean double the emergency thresholds, and although most of the children died from hunger, diarrhea, or malaria, 60 percent of all deaths for those over five years of age were caused by violence.
As of June 1, there were nearly 50 MFS interational volunteers in Darfjur working alongside hundreds of Sudanese staff.  MSF is providing medical and nutritional assistance to people in Mornay and 10 other locations throughout Darfur where 300,000 displaced people have sought refuge.  Teams are treating more than 1.000 children in therapeutic feeding centers and an additiol 3.500 in supplementry feeding programs.  MSF is already distriuting high[enterhgh rofoods to children under five years of age and poviding watr an dsanitation services.  MSF has been treating measles and is preparing for malaria and cholera outbreaks.
Note:  last month five of these noble champions were killed in Afghanistan in a deliberate shooting.  They risk all and ask for nothing but your Loving support to help the poor and forgotten.  Please think about what it means to have people that are willing to do this for your children.  Please do what you can to be grateful children to these, …the true heroes in our world.  Please visit and support this most noble and just organization… 
Thank you Jean Sébastièn Matte, …Ms  Coralie Lechelle you are a lucky man, …and you are a lucky woman to have these things you hold so dear in your heart.  You have made a real difference in your world, …and your world is very proud of you.